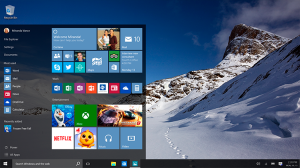 Windows 10, Microsoft's latest version of Windows, has launched.  Thankfully, they learned from the Windows 8 fiasco and have brought back a version of the old start menu.  That being said, you'll probably like what we did to bring back the classic start menu to Windows 8 over the new Windows 10 menu.
Your biggest question with Windows 10 is probably "Should I upgrade to it?"  In a change from previous Windows releases, Microsoft is giving away the new version for free to eligible computers.  If that includes you, you'll see a notice within Windows Update letting you know.
Eligible or not, my recommendation is to hold off on the upgrade for at least a few months.  Why hold off on the latest and greatest, you ask?
Even with a long period of testing, there are still bugs that will have slipped through the crack.
If you have an older computer or peripherals, you might have incompatible hardware.
You might run into issues if you still have older software that you use.
If you're wanting to get a new computer, don't worry!  We can still get you one running Windows 7 or Windows 8 (with the Windows 7 style start menu), and you'll be eligible for a free upgrade to Windows 10 within a year (after they've gotten more bugs fixed).
If you like to be on the cutting edge of technology and want to get Windows 10, we can help you do that too!
Either way, send us an e-mail or call Erick at 512-261-5800 x2 with your needs!